The scientists met with government and industry representatives at a day-long pitch party on Feb. 24, 2020, on the USask campus. The Saskatchewan Cattlemen's Association and the university's Western College of Veterinary Medicine and the College of Agriculture and Bioresources sponsored the event that attracted close to 80 people.
"It's the most direct way for me to interact with the funding agencies, in this case, the Ministry of Agriculture and the Saskatchewan Cattlemen's Association," said Dr. Diego Moya, assistant professor of large animal clinical sciences at the WCVM.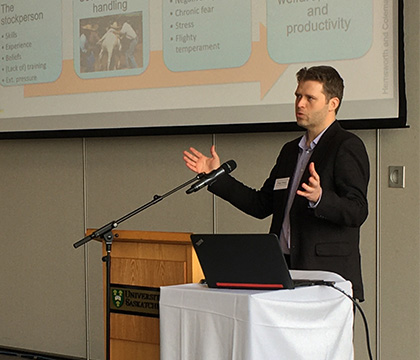 "It's a way for me to pitch ideas that I have in mind and grasp their interest and whether I should be doing things on that topic or changing my approach."
Moya was one of 19 scientists who had 15 minutes each to present research ideas and answer questions about their research proposals. The presentations fell into one of three categories, based on the cattlemen's association research priorities: microbiology and genetics, animal health and management, and forage and the environment.
For Dr. Jonathan Bennett (PhD), a relative newcomer to USask, the forum was an opportunity to continue to refine his research.
"I'm a plant ecologist and I'm trying to find ways that I can help. I can come up with a thousand ideas, but I need to know which ones are actually important to the producers," said Bennett, assistant professor in plant sciences at the College of Agriculture and Bioresources who started at the university in January 2018.
The forum was planned with long coffee breaks to provide opportunities for scientists to meet other scientists as well as the government and industry representatives. In addition to USask researchers, scientists from Agriculture and Agri-Food Canada, the University of Regina and Lakeland College presented research ideas.
"It was pretty quiet in here at the first coffee break, but by the last coffee break of the day, you couldn't hear yourself think because everybody was talking. That's the value of the day, in my mind," said Roger Meyers, co-chair of the cattlemen's association's research committee and a rancher from Minton, Sask., near the U.S. border.
Meyers, who reviews as many as 80 to 100 proposals for funding each year, also appreciates being able to put a face to the name.
"These presentations give us some background when the proposals come across the desk. With the Livestock and Forage Centre of Excellence here, we are going to attract more researchers from around the world, which is a good thing, but there is never an excess of research funds. There will be more applications coming in and this gives us a good way to manage them," he said.
The first Beef and Forage Research Forum was held in 2018. Organizers are already thinking about the fourth annual forum and how to improve the event that was deemed successful by organizers, scientists and funders.