The Livestock and Forage Centre of Excellence is a meeting place for interactive outreach programs — field days, demonstrations, industry presentations and seminars — to help introduce new techniques and technologies to producers. The centre is a hub for public awareness, helping to bridge the communications gap between the agriculture industry and consumers, by offering tours and participating in community events.
Community Events
Feb. 23, 2021, was Canada's Agriculture Day!
Farm & Food Care Saskatchewan and Canadian Food Focus hosted a virtual event where people, young and old, learned more about cows and how scientists are studying how cattle are raised. We started with a video tour of the University of Saskatchewan's Livestock & Forage Centre of Excellence followed by a Q&A session with the centre's associate director Dr. Colin Palmer and its outreach and engagement specialist Lana Haight.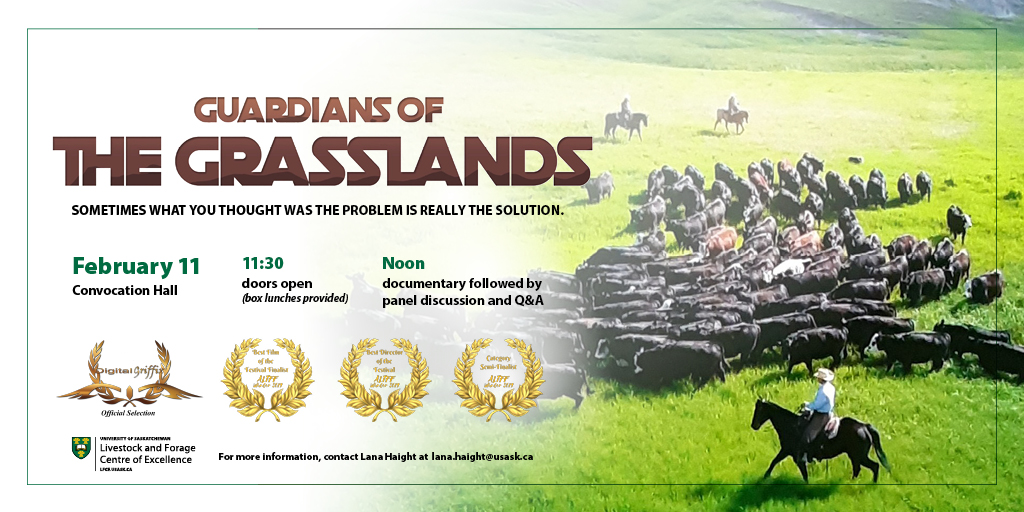 February 11, 2020
noon to 1 p.m.
Guardians of the Grasslands - documentary and panel discussion
Sometimes what you thought was the problem is really the solution!
Convocation Hall, University of Saskatchewan
11:30 - doors open
Free lunch for first 100 students
Noon - documentary followed by a panel discussion, Q&A
Panelists:
Jeremy Brown, Ducks Unlimited
Brandt Carter, Carter Cattle Company
Tamara Carter, Carter Cattle Company
Les Kroeger, Canadian Bison Association
Ryder Lee, Saskatchewan Cattlemen's Association
Canada's native grasslands are disappearing at an alarming rate – in fact, they are one of the most endangered ecosystems in the world. A collaboration between The Nature Conservancy of Canada and Ducks Unlimited Canada, along with a collection of ranchers, the film seeks to showcase how cattle continue to create hope on what's left of these iconic landscapes for the plant and animal species that call them home.

For more information about the USask event, contact Lana Haight at lana.haight@usask.ca 
To learn more about the documentary, go to https://guardiansofthegrasslands.ca/
Tours
We love to share the amazing research that scientists conduct at the Livestock and Forage Centre of Excellence. And one of the ways we do that is by conducting tours.
In 2019, we hosted 63 tour groups, totalling 1,283 people. That's a lot of people! Graduate students who are involved in research at the centre are fantastic ambassadors and eager to share what they and others are learning in order to advance the livestock industry.
From 4-H club members to producers to government representatives, we have hosted people from far and wide. Our visitors have come from Finland, the United Kingdom, Sweden, Australia, Cameroon, Japan, Vietnam, Mexico, Indonesia and, of course, Canada.
Tours were temporarily suspended during the pandemic, but we are excited that we can welcome tour groups once again.
If you are interested in booking a tour, email livestockandforage.tours@usask.ca.